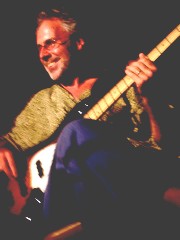 Beginning 5-String Bass
Video Lessons 1 and 2
If you are making the transition from 4 to 5-string bass guitar or even if you are a beginner bass player on the 5-string with a few bassic skills, these two videos will provide you with the tools you need to get going.
Renowned online music educator George Urbaszek has created the VIDEO SERIES "Beginning 5-String Bass" for you to download and get started with your lessons right away.
You can purchase and download Video Lessons 1 and 2 by clicking PayPal
What do you get?
You get 27 minutes of solid instruction, including
1. how to learn all the notes on the 5-string
2. how to transfer riffs and lines utilizing the low strings
3. how to cross the strings so you can FEEL where you are – without looking!
4. how to learn scales and arpeggios – easily – over two octaves
5. how to musically apply scales and arpeggios - including the MOST USEFUL SCALE for contemporary music!
6. how to create grooves on the 5-sting
7. how to get rid of the typical low-string rumble – this is often overlooked … and can kill your sound if you don't pay attention
Yes, these videos will not only show you RUDIMENTARY TECHNIQUES to enable you to easily play the 5-string, they will also show you how to quickly get beyond the basics and create music.
For only $16.95 you will get these TWO HIGHLY SPECIALIZED VIDEOS – made just for 5-string bass players.
Click on the PayPal Buy Now button (below) to pay $16.95 USD via PayPal. You don't have to have a PayPal account to pay securely online with credit card. Just follow the easy steps provided by PayPal.
Download your bass lesson MP3 within minutes of completing your payment.
POST-PURCHASE DOWNLOAD INSTRUCTIONS:
Once your payment has been processed you will receive an email (sent to your PayPal email address) with your login details (user name, password). BEFORE you click the link in the email to access the download site make sure you DISABLE YOUR POP-UP BLOCKER (If your pop-up blocker is not disabled, your download may not be successful) WINDOWS USERS - Set your Security Level to LOW when downloading your file.
iPad Users
If you have only an iPad, and no other computer to which you can download zip files, please email me at lessons@creativebass.com so I can give you a download specifically for iPad.
BE PATIENT - The download takes approx. 11 minutes at the slow speed of 58KB/sec.
Pay in your local currency. PayPal will automatically convert from US dollars to your currency using the exchange rate at the time of your transaction. Your PayPal invoice (which is emailed to you immediately) will display the conversion rate and the amount you pay in your currency.
You do not have to have a PayPal account to pay by credit card using the free and secure services of PayPal.
Bass lessons are supplied by Creative Bass
A division of Creative Avenues, ABN 22 323 614 466
Physical Address: 1/26i Coomburra Cres
Ocean Shores, NSW 2483, Australia
Phone/Fax: 011 (from USA) 00 (from Europe and UK) 61266802854
Email: lessons@creativebass.com