Are you TRYING to learn bass, but getting nowhere fast?
Are you stuck in a rut and don't know how to get out?
Are you checking out heaps of free bass lessons on You Tube and other websites … and still have no direction?
Do you even know where to start (or continue) your bass learning?
Well, I understand your circumstance and can help you overcome it.
I promise to give you bass lessons in the best possible sequence.
I promise to give you my personal support whenever you want help.
You are not alone. Join thousands of online bass students who have benefitted from my 38 years of bass teaching.
Learn bass fast ... or learn bass slow. It's up to you. After you subscribe get in touch if you want to change the delivery rate of your lessons.
(The standard delivery rate of your bass lessons is two per week.)


Do you have a question? Just ask me so I can help you.
(Taking time differences into consideration, I will usually get back to you within 24 hours.)
Thank You
George Urbaszek
Do you want a demo?
Click anywhere in the video image below to see excerpts from one of the online beginner bass lesson videos.
You will learn how to easily play a Blues in C using chord roots.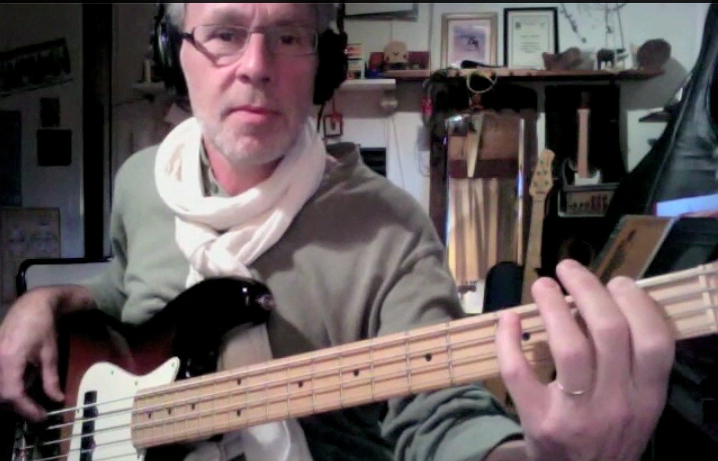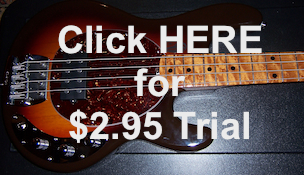 My No-Risk GUARANTEE for you: If you are not happy with the two lessons you receive during the one-week Trial period, just cancel your subscription with PayPal and I will refund your $2.95 - PLUS you will get the THIRD LESSON FREE.
Do you want to see me play? Then just click the You Tube video below. You will see and hear David Bowie's
"Let's Dance" recorded at a live gig in January 2016. There I play slap bass, "regular" bass, plus a fuzz bass solo.
Dear Bass Player,

If you've been struggling with how to learn technique, creativity, and groove, you'll want to read this page very carefully...

... because I'm about to show you how you can quickly and easily learn to play the right notes with the right technique, play fast AND in time, AND groove - all at the same time - no matter HOW much experience you have playing bass guitar (and even if you've never picked up a bass guitar in your life!)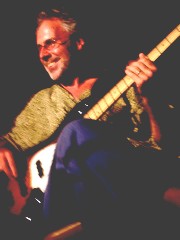 Hello, my name is George Urbaszek, and I've been playing the bass professionally for over 34 years.
I have the experience of over 3000 performances and 120 recording sessions...
... and have played with Australian jazz icons, Bob and Len Barnard... Judith Durham from The Seekers... Thelma Housten (Motown Recording Artist with the smash hit "Don't Leave Me This Way")... Beccy Cole, multi award-winning Australian Country Rock artist... Marina Prior (from Phantom of the Opera) ...
... and the list goes on.
I've ALSO been a bass teacher for over 38 years, and have lectured in Bass and Ensemble Performance at the Australian National University and Southern Cross University in the Jazz and Contemporary Music programs
My former famous students include Kim Khahn (with English multi-million record selling singer, Robbie Williams)... Rory Quirk (with The John Butler Trio, Australia's top international "independent" band)... Brendan Clarke (winner of the Australian National Jazz Award for Bass)... Greg Royal (in the TV band of Australian Idol)... Zoe Hauptmann (with Australian musician, singer, songwriter, Paul Kelly)...... and MORE!
Development of Worldwide Bass Lessons Online
After teaching in Outback Australia and finding that many keen students simply did not have access to quality and affordable bass lessons, I decided to create a solution to their problem.
With the aid and approval of Jazz guru, Charlie Banacos, from whom I took bass lessons by correspondence for seven years, I developed audio correspondence lessons specifically for bass players wanting to learn to play bass without leaving their home. That was in 1996.
Bass players from all over the world signed up for tailor-made bass lessons with me. This program is very successful. However, it is time consuming and not ideal for everyone - especially because of the expensive lesson costs, resources and necessary commitment from students.
Because I am always in the process of creating the best-possible bass lesson structure for ALL of my students I needed to find an alternative. So I researched and consulted with numerous current and former bass students in search of a solution, especially in relation to the cost and availability factor.
I had been writing the bass lesson column for Australian Musician magazine and was Australia correspondent for the online bass magazine Global Bass, so I already had my own resource of proven and successful bass lessons, both online and offline.
I decided to compile and test a short course of electric bass guitar lessons called Teacher's Choice for online use and went about formatting and recording the lessons and uploading them to a newly-created website. I offered these bass lessons to former students - online - and they loved them!
I then spent an entire year developing a solution for all bass players - from absolute beginner to well advanced - needing and wanting to learn effectively and affordably... and implemented the first and only entire online electric bass guitar course available to everyone.
My solution is simple. It involves systematically progressive bass guitar lessons that build on each other and are available for anyone anywhere in the world at any time - because these bass lessons are online!
Keep reading to find out exactly HOW these online bass lessons work and how they will benefit you.
The System
I call my system Bass Lessons Online and it's a 100-lesson eCourse where you will learn exactly how to create, play, and groove!
Get lessons from the bass teacher that "comes to your house" and delivers bass lessons twice a week.
The online eCourse is split into two sections: Beginner to Intermediate and Intermediate to Advanced.
The first online bass lessons contain information all bass players must have, beginning with the function of the bass, its parts, the ideal placement of your hands and fingers, rudimentary rhythm exercises and grooves - including photos, AUDIO and VIDEO - string crossing, lead-up notes and bass guitar practice techniques.
Within the first ten online bass lessons you will have learnt the music alphabet, you will be able to instantly find any note on your bass guitar - have you been struggling with this? - you will be able to create your own riffs using hammer-ons, and you will be able to tune your bass without external aid ... AND, in addition to the videos with each bass lesson you will get CONSOLIDATION VIDEOS - just to make sure you review your progress.
The online bass lessons cover a multitude of playing styles, techniques, genres, and topics such as recording, live playing, soloing, walking bass, improving your timing, extracting bass grooves from drum rhythms, techniques to enable you to play fast and difficult passages ideas to help you stay fresh, left-hand/right-hand independence, and effective use of chromatics - is this the best kept secret of the pros? - to create bass lines.
What you'll learn
You'll recieve TWO ONLINE BASS LESSONS PER WEEK full of hints, tips, practice suggestions and examples for achieving good technique, good time, and your musical goals!
If you're just a beginner, I'll show you how to...
Pick up where you once left off - Help is right here!
And if you're a more ADVANCED player, you'll discover how to...
Become an

in-demand

electric bass player because you can play by ear AND interpret music notation effectively
Make up killer bass riffs ON THE SPOT!

Get your bass playing right

. By now you know how important that is!
Play fast and fly through those once-difficult passages with ease
Develop quickly and continually without boredom
OPEN DOORS tolucrative session work
Learn improvisation concepts you can apply anywhere
Put your fear of improvisation behind you
Play great walking bass for Jazz, Blues, Country, Rockabilly and more

Groove consistently with the best

Play in any style you want to get you any gig you want
Play over any sequence of chords. Learn EXACTLY how a chord is constructed and how valuable it is for you - the bass player - to be able to make up your own lines and riffs off chord symbols
Learn to use

the most powerful tools a bass player can have

to cover ALL musical situations!
The testimonial that covers ALL testimonials
"My knowledge of bass has improved ten fold I have learn to figure out things on my own I purchased your cd workiing it out that has helped, my knowledge of the fret board has improved ten fold all of your lessons have helped me everything has improved.
Lesson content is great again i am learning things I never dreamed of learning
I would have to rate your system A+
I want to take a moment to thank-you for offering these lessons on line because I was getting no where fast, and now I look forward to picking up the bass every chance I get, because I can hear my progress. I would suggest to anybody to take you lesson series."
- Danny Crosby, USA, 17 March 2008
The "late starter" testimonial
"Having never picked up a bass (or a guitar) in 56 years, I expected doom and gloom from day 1. To my astonishment, not only do these lessons provide an outstanding foundation for playing bass, they are incredibly fun. If you really work the lessons and pay close attention to every word you will find valuable nuggets of knowledge in every session no matter how "short" it seems.
The pace is perfect and for someone who only has spare time at odd hours, these lessons are perfect.
After spending 30 years away from music raising a family, I decided to learn something I have always wanted to do and Bass Lessons Online have given me the opportunity that I otherwise would have missed living in a tiny community.
Finally, if you are looking for stress reduction in your life and a smile on your face start Mr. Urbaszek's lessons today."
- Doug Rigby, USA, 24 January, 2010
How you will learn (bass lesson format and structure)
You will receive each lesson via a link in an email to you.
Each lesson in the

Beginner series of Bass Lessons Online

is a web page that contains text and a dedicated video.
Photos are used wherever required to show hand positions and music notation.
Audio demonstrations (MP3s) associated with the lessons are included.
Jam tracks are provided with some lessons for you to play along with.

The entire Beginner series of Bass Lessons Online is structured in a step-by-step manner, with each lesson building on the previous.

The course is designed for all types of learners, be it aural, visual, textural, logical, slow learner, fast learner etc.
Each bass lesson contains a manageable portion of practical information and exercises.
The Beginner series of Bass Lessons Online is a "generic" bass guitar course, meaning that you learn skills that you can apply to all music genres.
You can use these lessons for 4, 5, or 6-string bass guitar, and for acoustic bass guitar.
You receive a User Name and Password to access your bass lessons online.
If you wish, you can download your lessons for offline access anytime.
The Intermediate series of Bass Lessons Online gets predominantly into generic aspects of contemporary music genres, such as Funk, Rock, Latin, African, Jazz, Hip-Hop and so on - all with an emphasis on showing you how to create your own bass lines.
These (Intermediate to Advanced) lessons currently contain video with 30 lessons. At this stage in your playing it is no longer essential to see how its done. It is more important to understand and use specific concepts.
The Intermediate series of Bass Lessons Online contains 10 lessons on improvisation concepts and their application. These improv. lessons are useful for anything from on-the-fly bass line construction to advanced bass soloing.
My suggestion:
Only sign up for the Intermediate series once you truly understand and can demonstrate solid fundamental musicianship and bass playing skills. If you are not sure, look at the lesson topics on this web page: LESSON TOPICS
Many players overestimate their skills and struggle at true Intermediate level, so I suggest - if you feel you are in that situation - you sign up for the Beginner course to make sure you have the fundamentals truly covered and have left no stone unturned.
My offer to you
I spent one year full-time developing this eCourse ... and to this day continue developing this bass course! Now if you were to take lessons in person with a bass player of my experience, you'd expect to pay $70 per lesson. That's why I know you'll be thrilled to discover that each of my lessons in the Beginner Bass Course (includes VIDEO) will cost you as little as $4.99 or only $3.94 in the Intermediate Bass Course! How can this be? Simple: I want to make Bass Lessons Online affordable for everyone. This has always been, and always will be my aim.
I love bass. Let me help you love the bass as much as I do. Sign up for a subscription to Bass Lessons Online. You will receive my guidance and help to become the best bass player you can be.
But because I want you to get even more value from your lessons, I'll also give you -- absolutely FREE -- these THREE bonuses worth 139$!

A FREE six-month subscription to the monthly Creative Bass eMag
(a $24 value -- yours FREE!)
The monthly Creative Bass eMag (electronic magazine) contains lots of information and advice about bass playing and ear training including tricks and tips PLUS some of my special VIDEO BASS LESSONS and links to free bass-related downloads. This saves you time because I am the one who does the research and organization for you.
Each eMag contains at least one lesson, giving you a minimum of 6 additional lessons on top of your eCourse!
---
Two Bass Lessons from the PROFESSIONAL series of Bass Lessons Online
(a $20 value -- yours FREE!)
You will receive 2 bass lessons of powerful "pro" material. If you had these lessons in a one-on-one session, you would pay the price of my entire eCourse just for them alone!
Let the lesson topics surprise you! (Hint: Melodic Bass Playing using Upper Extensions and the Power of Metric Modulation)
---
Your personalized BONUS A Progress Assessment >>> Consultation
(a $95 value -- yours FREE!)
You get a FREE CONSULTATION with me, George Urbaszek, at any time of your choosing during your subscription to Bass Lessons Online. This expert Progress Assessment/Consultation is valued at $95.00!
All you need to do is upload a video clip of you playing (preferably under 2 minutes duration) on You Tube or any video playback website you choose. I will assess your bass playing and provide feedback, including a consultation on what I believe you need to do for further improvement.
All this... PLUS my guarantee!
Because you are subscribing to Bass Lessons Online in monthly installments, you can unsubscribe at any time IF YOU ARE NOT COMPLETELY SATISFIED - no questions asked!
There is no lock-in contract.
Each bass lesson is yours to keep - forever! Just download to your computer and LEARN IN YOUR OWN TIME.
The Beginner to Intermediate bass guitar course is priced at $249.50 USD. But you invest only $41.58 USD per month for 50 semi-weekly lessons PLUS the BONUSES.
The Intermediate to Advanced bass guitar course is priced at $213 USD. But you invest only $35.50 USD per month for 50 semi-weekly lessons PLUS the BONUSES.
That is truly a small outlay for bass guitar lessons that are systematically built on each other.
So why spend the next year -- or maybe longer -- struggling with rudiments, timing, groove or working out advanced material, when in just a few days you can achieve skills on your bass guitar that will catapult your playing in no time!
Claim YOUR copy of my program right away!
Each Beginner Bass Lesson comes with VIDEO and Consolidation Videos are used every 2 - 5 lessons to demonstrate and review core bass lesson content
Here is a sample from one of my actual bass lesson videos
Learn Bass at Home - It's like your bass teacher coming to your house twice a week for less than $10.00!
My Guarantee: Your Lessons on Time or Three for Free
Great News!
You do not need a PayPal account to use the free and secure services of PayPal when you use your credit card or debit card